Lateral Cooking in the USA
Lateral Cooking has been getting some great press ahead of its US publication in November.
Food 52 have included it in their '10 Fall Cookbooks We're Beyond Excited to Cook From'
It's also in Epicurious' 'New Fall 2019 Cookbooks We Can't Wait to Cook From'…
Chowhound's 'Best New Cookbooks for Fall 2019'…
…and Publishers Weekly have called it an "extraordinary cookbook" that "provides a treasure map full of both straightforward satisfactions and rewarding detours."
Recipe: Sweetcorn Griddle Pancakes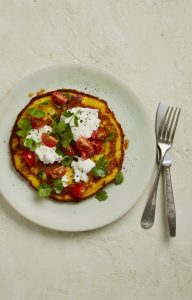 INGREDIENTS
4 ears' worth of fresh corn kernels
4 tbsp plain flour
½ tsp salt
1 egg
Butter or bland oil to grease the pan
Mozzarella or halloumi, tomatoes and coriander leaf – optional
Makes about 18 pancakes
1 Blend the corn kernels with the flour, salt and egg.
2 Leave to rest for 20 minutes
3 Over a low-medium heat, wipe a heavy-based frying pan or flat griddle with a little bland oil, butter, or a mixture of the two. Flick a drip of batter on the griddle to check for cohesiveness and add more flour (or more egg) if it doesn't hold together. Watch like an overprotective parent, as the corn's natural sugars make these pancakes prone to burn; they should be about 16–20cm in diameter.
4 Fold the pancakes over some mozzarella or grilled halloumi with coriander leaves and sliced cherry tomatoes.
Photography (c) Louise Hagger
Food and prop styling (c) Emily Kydd and Jennifer Kay
Lateral Cooking is out!
I'm very pleased to announce that my new book, Lateral Cooking, is now available to buy.